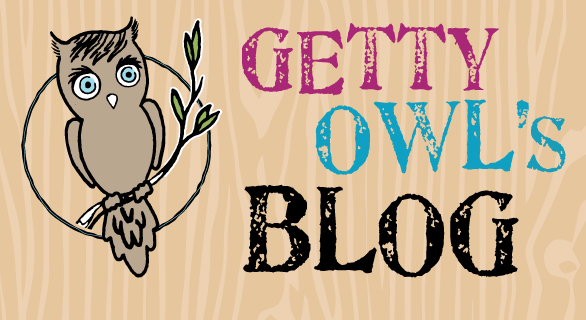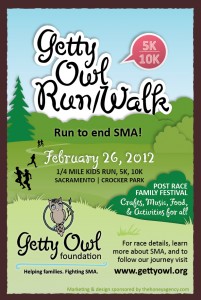 From Kate,
With less than a month left I wanted to do one last January "shout out" to remind everyone about the Getty Owl Run/Walk this February 26th in Crocker Park. Literally everything is in place and now we are awaiting the day that we can celebrate with everyone.
Our focus that day is SMA awareness and raising funds for SMA research, as well as celebrating  family, and to build community. We have designed the day with all of those aspects in mind. Throw in exercise, food, drinks, giveaways, vendors, crafts, activities for kids and adults and now you have the makings of an awesome day. We  hope you can join us. Click here to learn more.
You can register online and now you can also you can also print out our Registration PDF. Print it out, throw a check in the mail and just make sure it is postmarked by February 18th. Click here to learn more about registration dates.
We would like to thank our sponsors for believing in Getty Owl Foundation and our mission to educate the community about SMA. This event is going to be incredibly amazing due to the generosity of so many great companies. Click here to see all the awesome companies.
We have been so humbled by the outpouring of support to volunteer at the Getty Owl Run/Walk. From high school Key Clubs, to CSUS and UCD community service fraternities, to a group from AmeriCrops. We look forward to working with you all and can't wait to have your help. Thank you all.
So what can you expect if you are a participant?
All participants registrations include an event t-shirt, goody bag, and post-race nourishment.
If you are kiddo you can expect a fun 1/4 mile fun run. You will be running alongside Dinger from the Sacramento River Cats as well as Captain Fitness from California Family Fitness. Do you have what it takes to beat them? :)Ribbons for all kiddo participants.
5K and 10K runners and walkers, your route will be wonderful. A nice run or stroll along the Sacramento Waterfront. Age group winners will be rewarded with medals during the post-race family festival.
Post-race nutrients will include donated fruits and bagels/muffins from Raley's, complimentary Go Girl drinks, and a BIG surprise that I am not allowed spill yet. But it is AWESOME!!!!!!!!
The post-race family festival includes vendors of all kinds, crafts for the kids, handmade crafters selling their wares, music, and giveaways. Click here to see the growing list.
Thank you to all who have already registered. If you haven't yet, there is still tons of time and we hope to see you there.
We are officially in countdown mode, so very, very excited!
Can you tell? 🙂