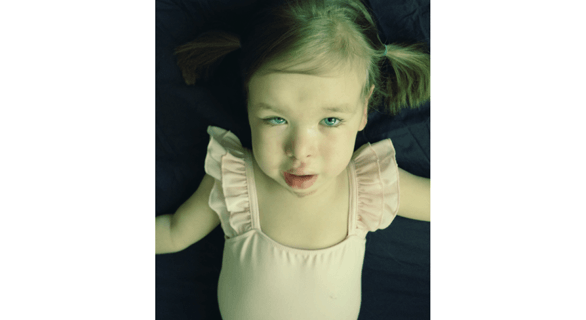 Getty Emelia Storm was born in March 2010, in Roseville, California. We live in the Sacramento, California area.
We noticed Getty had a very calm demeanor, like she was born a wise and kind old soul. She has big bright blue eyes and Getty also enjoys hooting. It was fitting to call her our little owl. We  also call her Getty Spaghetti just because it's fun to say.
At age 3 months, we noticed Getty was not lifting her head or meeting other movement milestones for her age. Our pediatrician felt it was little cause for concern, attributing it to simple developmental delay. Wait and see.
In July 2010, at age 4 months, Getty went to her routine pediatric visit for a check-up. We again raised our concern about Getty's lack of movement. That day, the pediatric neurologist diagnosed Getty with Spinal Muscular Atrophy (SMA), the #1 genetic killer of young children. Based upon the fact that she never sat up without help, she was diagnosed with SMA Type 1.
Despite the tragic news, Getty is a very happy little girl. The diagnosis does not keep her from smiling and laughing every day. While our dreams for her were crushed instantly, Getty had no clue and was living her life happily. We knew we did not want SMA to define her life and we decided to do everything  in our power to make sure Getty has the best life possible.
We immediately reached out to the SMA community, where we were welcomed by open arms and big hearts. Getty's life would be nowhere near as fruitful as it is today without the support from the SMA community.
To raise SMA awareness, assist other families affected by SMA, and accelerate research for a cure, we launched Getty Owl Foundation, a 501(c)(3) nonprofit organization, in Getty's name and honor.
To find out more about SMA, click on the "What is SMA?" link. We also have a FAQs page and a SMA Library available to learn more about SMA, assist the newly diagnosed, join the fight, find a cure, and find out more about some of Getty's friends and supporters.