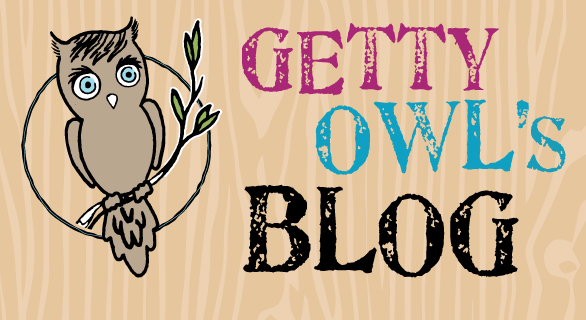 From Kate:
Respiratory Syncytial Virus (RSV): is a very common virus that leads to mild, cold-like symptoms in adults and older healthy children. It can be more serious in young babies, especially to those in certain high-risk groups. Getty and all kiddos with SMA are a part of that high-risk group. We have known some sweet kids that have fought and battled this virus and prevailed. Even several times in their so far short life. It is scary and it is something we try so hard to make sure Getty does not get. RSV season is pretty much from October to April. This season has been a bit weird with our drier winter. Pretty much the suggestion was to avoid enclosed public places until Memorial Day weekend. Even with all of the precautions that we and other families take RSV or something like pneumonia can still appear and then a battle will ensue to get it out as soon as they can.
Some families are brave and continue to live life and go out even during RSV Season. I am not that person. I am not brave.
I am petrified by that idea of Getty catching something and has the potential to compromise her health any more than SMA already does. We only allow certain people in the house. They must scrub whatever is on them to the point of sparkling. Grammy and Papa come over, our very wonderful Miss Angie comes three days a week to help around the house and to love on Getty. But very few house guests at that. Since this is the second RSV season, I am starting to "get it". The cabin fever is not what it was last year. Holy cow that was a jolt to this extroverted system. But you would be surprised how exciting the inside of four walls can be. 🙂 It is all about perspective I guess.
There are many families that we have met that have seemed to find that balance between safety and exploration. I hope to become brave like them, but honestly I am not there yet.
We planted a Victory Garden for Getty in the backyard. It is right in front of the sliding glass door. So regardless of the weather we can look out into the backyard and watch her beautiful flowers grow. Further right is the vegetable garden all planted and the process of growing. But it will be some time.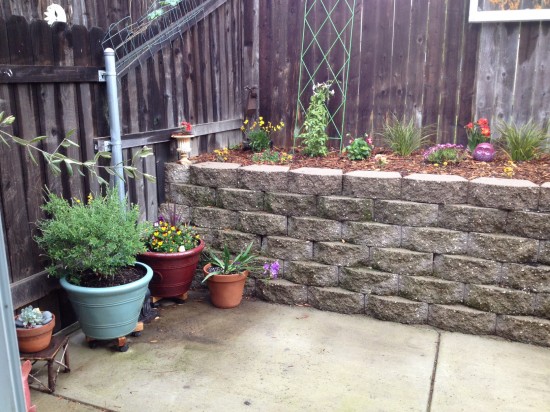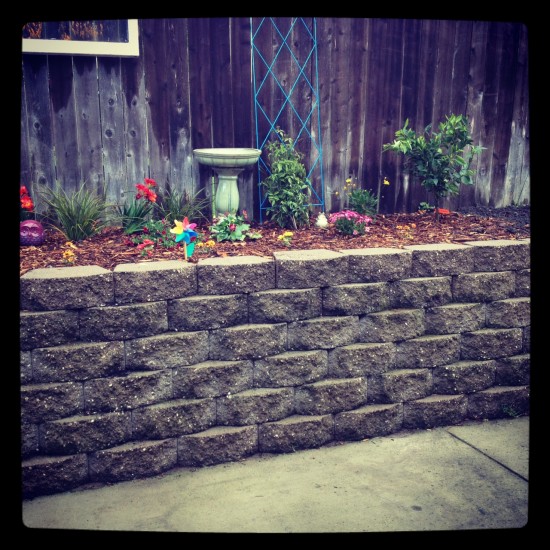 We go outside and read books and Getty helps water the plants. In the front of the house has a slight overhang and we go out there was well and hang out. We are starting to get to know our new mail carrier. We wave to him and the garbage trucks that go by.
It is now overcast and rainy at our house, so for sure we aren't going anywhere today. But on Monday we did. We went to the park! It was awesome. I was being brave.
The original plan was to explore the duck pond. It is about three blocks or so from our house. We packed Getty's stroller with her bare necessities.
Couch Assist, Suction machine, battery and inverter, bi-pap machine, pulse oximeter, and food pump. Yes it all fit and what did we actually use on our trip? The pulse oximeter the food pump and the suction machine. But I must be prepared for any situation. What goes over and over in my head is Getty needing to be coughed and I can't get whatever is in there out and I lose her because I was unwilling to pack a machine. Many families can do it and feel safe, I cannot, I am not brave.
So we (Getty, Angie, and myself) ventured outside. The weather could not have been more perfect. It was almost like mother nature was saying "Hello Getty and welcome, we have missed you." We took a nice stroll through the neighborhood and made our way to the duck pond. Once we got there we saw signs letting us know that the sidewalk was closed. WHAT? Man that was bad luck indeed. There was a beautiful goose that met us at the sidewalk almost as if to say, "Hey I am here, I'll take your bread". 🙂
Kind of letdown not to be able to feed the ducks, but instead we decided to go to the nearby park instead.
We strolled over to the park and reality kind of hit me, like it often does. I stood there looking at all of the playground options and tried to figure out how we could access it safely. The rock wall was pretty much out, jungle gym was out, maybe the slide, but then my eyes I instantly turned to the swing.
Okay so how do we do this? A good suction and then I picked her up. Put the portable pulse ox in the back of my pants and away we went. Angie was in back of us to suction if Getty needed it.
Swing, Swing, Swing
It was beautiful to watch her look all around as if to say, "What on earth are we doing, but whatever it is, it is cool!" It felt amazing to be brave. Coos and smiles were plenty. Getty had such a great time swinging back and forth. This mama's heart was warm and full.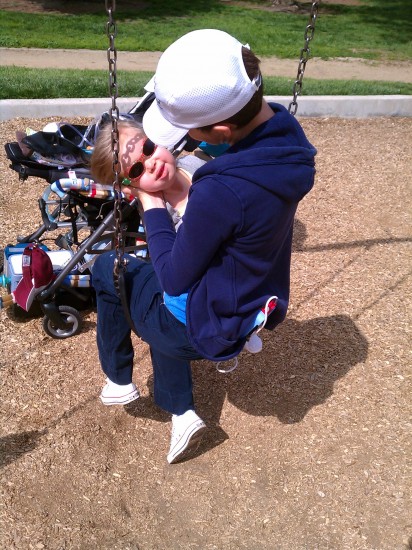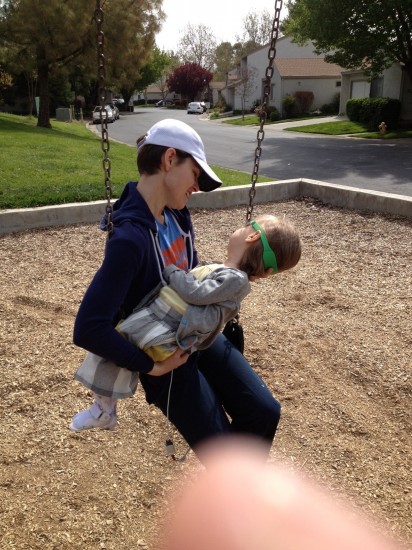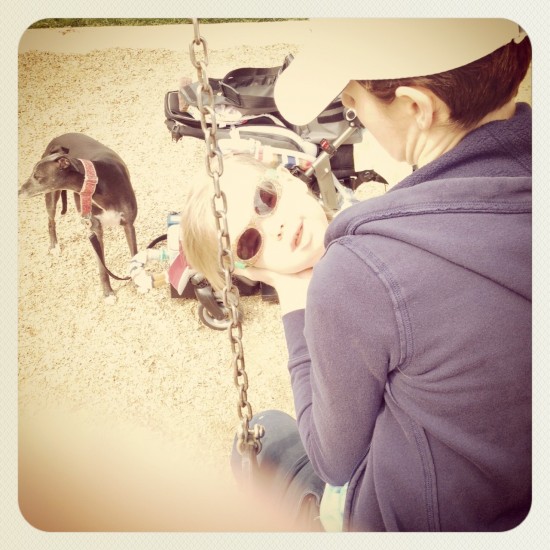 Someone had a great time. Hell, we all had a great time.
Being brave feels empowering. Getty only benefits from it. I hope I can continue to be brave. It is overcast and rainy today, so inside we will be. But if the skies part soon and bring us the beautiful sunshine, we will be at that duck pond to feed that goose who is still waiting for us to come back. 🙂
Happy Wednesday!