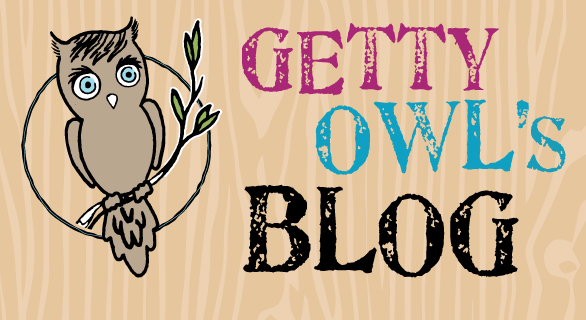 From Kate:
It is not easy to take time off as a family. The walls of our home, while comforting and safe don't match an opportunity to pack up the van and get out of town.
We didn't really plan it actually. I think I just thought, "we need to get out of here", and it just kind of worked out. We knew we wanted to go somewhere familiar, low altitude, somewhere with easy access for Getty, and somewhere we could just breathe and lose ourselves in nature.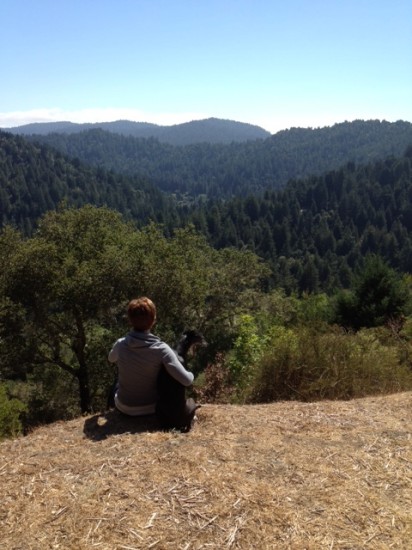 I'd say we did that. 🙂 Oh and a place where Coopie could come too.
Guerneville, CA is a very sweet, little town that is pretty much hugged by redwoods and nourished by the Russian River.
It is quiet, it is slow, the temperature didn't go over 70 degrees; it was perfect. It is the kind of town that once you arrive you unconsciously leave your mental baggage at the beginning of Main Street.
Our stay was for the Labor Day weekend. I perused the vacation home rentals the week prior and kept my fingers crossed on one in particular. Open floor plan and a big adaptable room for Getty. Most of the rentals are cabin like, which to us meant, narrow hallways, small rooms, and lots of stairs. So when I saw this one and I saw the amazing price for so many days I immediately crossed all fingers and toes.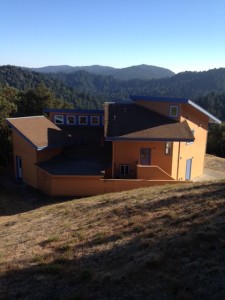 And we got it! It obviously isn't your average cabin in the woods. Very modern design outside and in. It was perfect for us. And to be surrounded with this view instantly gave us a new perspective.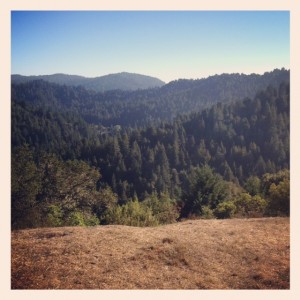 It felt like every time I would have a worry, it was almost like the forest would shhhhh me and say, "shut up, look at this view." 🙂
We really had no plans for the weekend. We knew we wanted to head over to the ocean, which was about 20 minutes away. We also wanted to check out Armstrong State Park. But most of the trip we just relaxed and hung out.
Getty loved the trip. The entire time she was in good spirits and enjoyed watching the wildlife  and the great scenery. We brought books and activities to do with her. We tried to keep some of her routine the same. We also had times when we just wanted to wow her with new experiences.
Packing and unpacking was a lot easier this time around. Mark bought plastic tubs to organize all of Getty's stuff. When we got the the house, we instantly started working on modifying her room. I wish I had taken a picture of what the room looked like before.  I guess I would describe it as "romantic". That quickly changed as we moved in.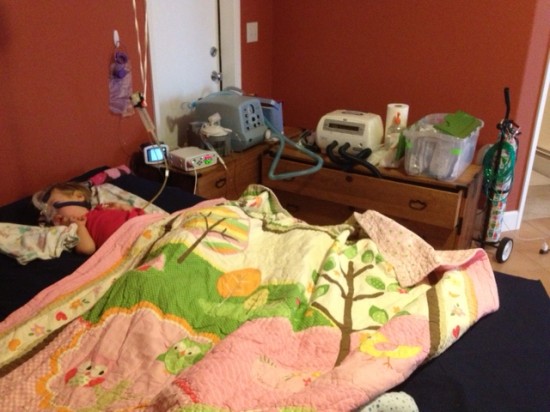 Getty had everything she needed. We tried to mimic her set up at home as much as possible. The bed was not so comfortable, so if we do this again, we will definitely bring an overlay of foam. But overall the room was big enough for everything which was nice because small rooms can sure start to feel suffocating.
Off to Armstrong Redwoods State Park. It was just simply gorgeous. There were great paved routes we could all access. That morning we were actually able to put Getty in pants and a jacket. We haven't been able to do that since I think last October. The weather has been so nutty, I don't think we had a winter or a spring in Sacramento.
Anyways, we got to the park and it was just beautiful. Getty looked all over the place and got very quiet. That is when we know she is loving it. Just a calm serenity over her face as if to say, "wow this is cool." Or I guess, "what the heck are those tall thing." Either way, she was having a great time. Cooper was allowed on the walk as well. So his day also was the "coolest."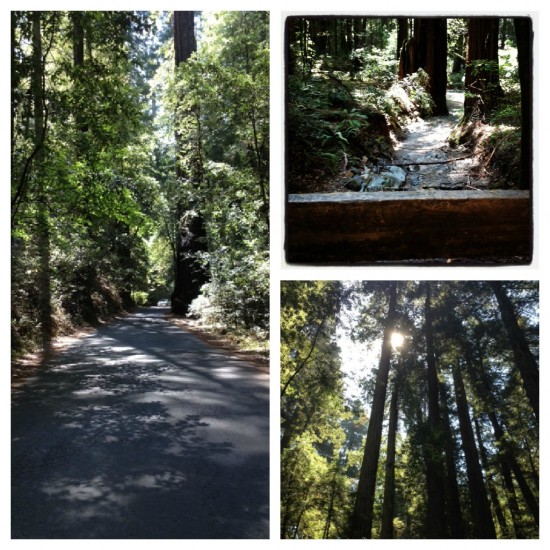 After got out of the van and were all situated, we headed out on the trail. Getty was awfully chatty when we would stop. Actually to the point that she started to cry. She can get a little bossy. 🙂 She here is the, "keep moving you guys, I need to see everything", picture.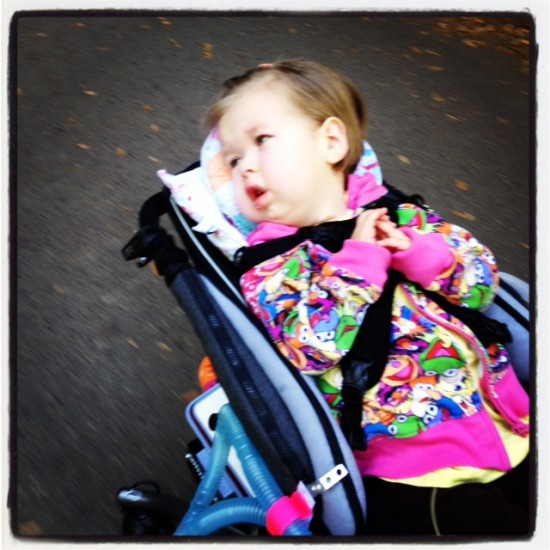 This is ten minutes later.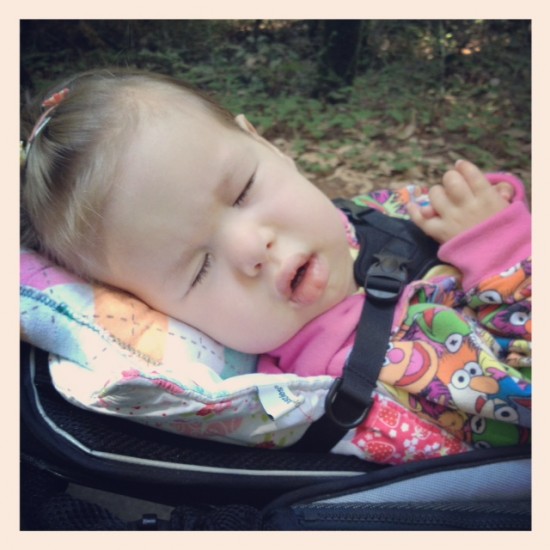 What? We are in such a beautiful place and you fall asleep? 🙂 Just our luck. So we took a quick family picture, just in case she did not wake up on our trip. We wanted to remember the moment as a family, even if our sweet owl was in dreamland.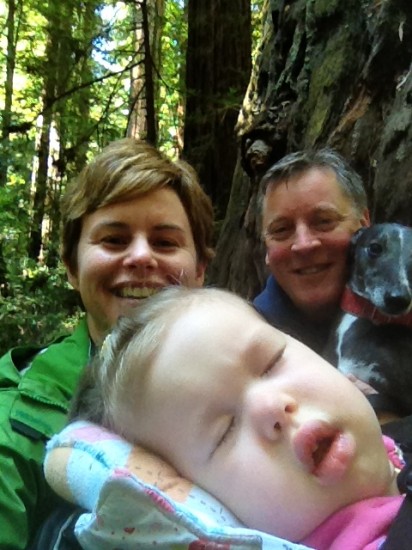 So we put her bi-pap on and we let her sleep while the three of us (Cooper included) admired the scenery.
The grounds are beautiful and the paved roads are actually paved and nice to walk along. Getty's stroller can't usually take every bump and can become uncomfortable for her if the ground is not flat. So it was smooth sailings all day.
Mark and Cooper got a chance to spend some time together.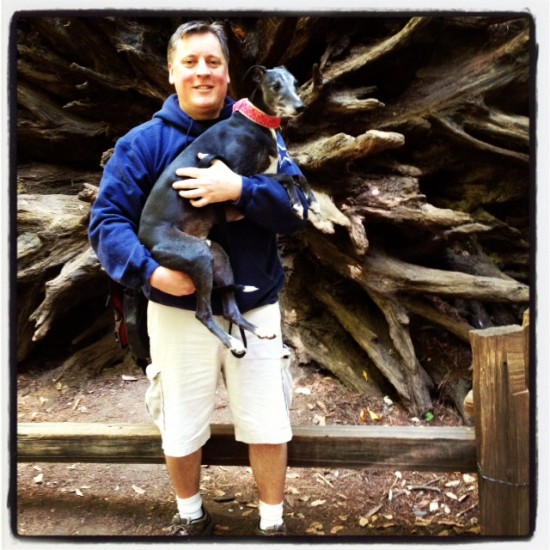 And then after a little while on the walk our sweet baboo woke up.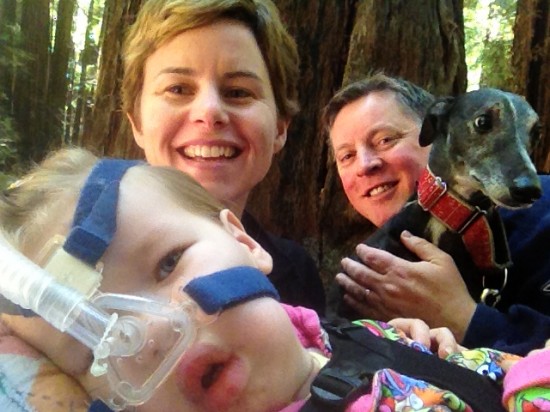 We were so excited to continue our walk and had a great time. Mark and Getty touched a redwood.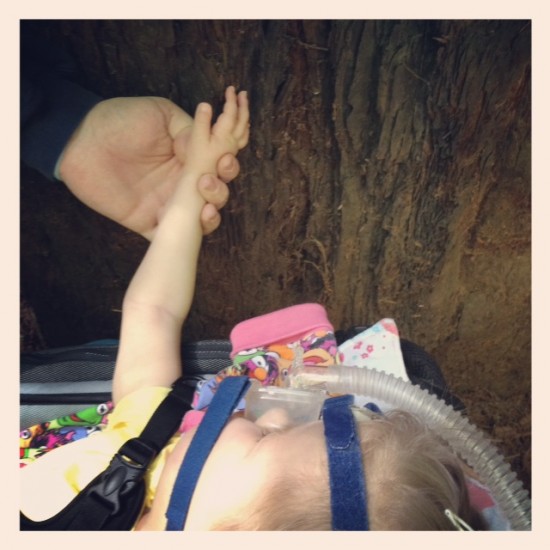 Overall the trip to the park was amazing. It may seem simple that we went to a park, but for us it meant the world to be together as a family. So many parks are just simply not accessible for Getty. But this park was so nice and shaded, easy to move around, and an accessible place for Getty to use all of her senses.
After a few days of naps, eating inside and just relaxing, we headed to Fort Ross.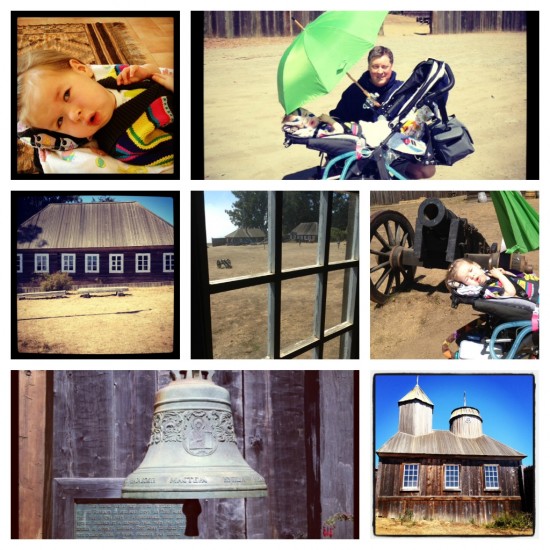 This place was NOT accessible, but it was still fun. :)We love history, so to show Getty this fort was very cool. She even got to ring the bell.
I titled this post "Serenity Vacation" for a reason. While it is not very easy to travel and while we always have to be at a heighten state of alert as an SMA family, there were moments that we were able to breathe and take in the time we had together. For this weekend at least we were able to let stresses go, let worries go, let our family reconnect in a way that we really have not been able to do for a long time. Getty had a great time and that IS all that matters.Or hope is to be able to come back very soon. There is definitely something about nature that calms the soul. The quiet peacefulness of wind whispering by and the gentle chirping of birds allows all of life's worries to stay at bay.
And if you are not sure what serenity looks like, maybe this will help.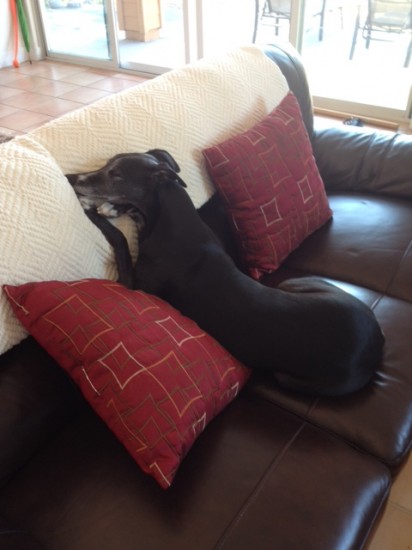 Yes folks, even Cooper needed some much needed R & R.
2 Comments
(+add yours?)
---