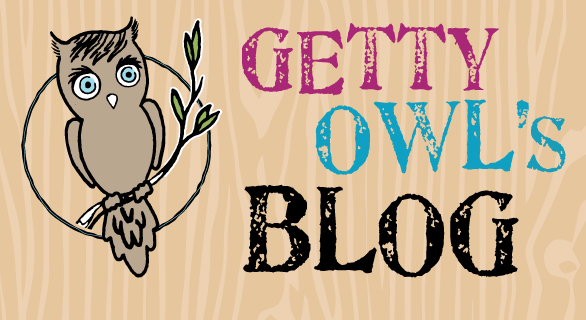 From Kate:
I never knew that a 1 year old's birthday could knock you out for the remainder of the weekend, but Getty's Party DID!!!!
The morning started with some last-minute decorations and a quick glance at Getty's facebook page. Stacey's idea of having a virtual birthday party for Getty was just terrific. Although, I will say I wasn't sure how it would all fall into place. Would people really make videos for Getty? Then I saw this video first and I knew today was going to be magical. And it was!
Getty is a late sleeper. So most mornings I can get some things done around the house before she wakes up, but Friday all I could do was watch video after video after video! I got up from the laptop to grab another cup of coffee and ran straight back to the couch to watch more. Getty's wonderful, amazing cousin's put together their own video to wish her a happy birthday. Rachel and Sarah that was so sweet and boy you both can sing! What side of the family does that come from? 🙂
As the morning started to unfold, Stacey was managing the website with hourly giveaways. It was so much fun to read all the nice comments and also see all the great wares that were being given away. Thank you to all the crafters that were gracious enough to join Getty's Virtual party and help make this party out of sight!
There are days when I curse technology. Something freezes, documents are lost, or the occasion battery death, but Friday was certainly an example of what amazing things technology can do. As the day progressed giveaways were in full force, bloggers like Smonk You, The 818, love Maegan, Katie Jean, and The Next Martha were twittering about our giveaways. Thank you all for supporting Getty and our website and really getting into the giveaway spirit.
As the morning progressed I was curious to see how many people have gone on the GettyOwl website and click on topics about SMA. I mean were people just going for the free stuff? And the answer is NO! There were tons of hits on What is SMA, About Getty and my heart grew warm. More people know about SMA and that means it can't continue to hide and devastate families in secret. There are now more warriors to help us fight.
More videos, more videos, more videos! And more videos, and more videos, and more videos! Did I mention this video? How about this video? Or this video?
Getty's friend, Miss Angie came over had some fun gifts for her. Stacey also came over with Mr. Leyton and she literally bought every balloon in the greater Sacramento area. Getty's eyes got huge as Stacey came around the couch with the bouquet. She loves balloons!!!!
Afternoon came and my parents came over and so did Morgan. We asked her to join us and capture such a beautiful day. So here are some pictures to begin with. Morgan is so talented and she gets to work with our little peanut!
Later in the night Getty received a special phone call from her Grammy Evelyn and Grandpa Evin. They sang Happy Birthday to her, it was so sweet. Thank you both for lending your voices to wishing her a special birthday. We certainly miss you guys and wish you could have been here.
So on to the cake. Let me tell you about this cake. It was awesome and ……well let me just show you and you can decide for yourself.
Here is another view.
Simply amazing right??? Beth, from Beth's Cakes is so incredibly talented and this cake is just WOW!!!!! I didn't want to cut into because it was too cute. I didn't want it looking at me as I split its head. 🙂 So I started from the back and worked my way forward. As it stands the face is still in the fridge, I can't bring myself to eating its face. 🙂
We sang Happy Birthday to Miss Getty and she was all smiles. It was so fun to watch her sit in delight as we all sang to her. Daddy helped her blow out her candle.
Then we were off to taste some frosting. Getty only eats through her g-tube so we knew that tasting some yummy frosting would be great treat.
She swirled it around in her mouth for a bit. Getty seemed to be enjoying it. Then after about a couple of minutes of swirling, she spit it out!!!!! Not that she didn't like it, but she is trained to spit out all of her "gunkies". We were proud of her for being so incredibly smart about knowing that something going in should go out just as quick. 🙂
As the night went on Getty continued to spit out the frosting. A very thorough little girl. 🙂 We opened lots of presents. We had a good time watching her play with her new toys. She really enjoyed all the tissue. We should have just bought her tissue and ribbon and I think this girl would have been more than satisfied.
The night ended the way it began. Mark and I singing to her and snuggling her into her little bed. It was an incredible day. Our baby is 1, a huge milestone for us as a family. Now on to many more. Next year we will need to outdo this one and it sure will be tough.
Thank you all who participated in Getty's Virtual Birthday Party. Thank you to Getty's Grandpas and Grandmas for being so supportive. Thank you Stacey for helping us celebrate both personally and virtually, and thank you Morgan for taking such beautiful pictures. Friday was a very memorable day and we get to keep them forever.
5 Comments
(+add yours?)
---