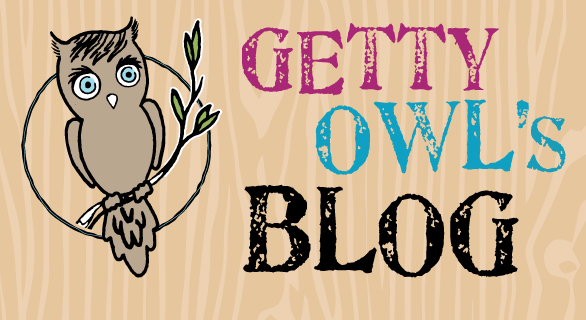 From Kate:
Okay we are back at em' today with two new pieces. We only have 3 days left of the auction. I hope you have had a great looking at items and bidding on items. A couple of "housekeeping items" if you bought some art we would love to see where it ended up in your loving home. Take a picture of it and email us at hoot@gettyowl.org. Lastly, the Tell 5! giveaway deadline should be August 31st, but I am going to EXTEND it to September 5th. You have until the 5th to send me your pictures of you giving out your Tell 5! bracelets and postcards to be entered into a drawing for a $50 Visa giftcard and a Sweet Water Child, Lullabies for Getty CD. It is that easy. The pictures I have received so far are just awesome! Keep them coming.
Our auction count so far looks like this:
Abstract Minnie: $102.00
Blizzard: $50.00
Desert Flowers: $51.00
Gallant Strength: $50.00
Nest of Life: $75.00
Butterflies in Flight: $76.00
Rainbow Flight: $61.00
HERO: $197.50
Malena's Garden: $20.50
Hands of the Future: $65.50
Rainbow Worms: $10.50
Twin Love: $20.50
Star Angel: $20.00
Snowmen: $17.50
Peaceful: $10.00
So let's do this Tuesday style and blow the bidding out of the water. 🙂 Here is the next item up for bids.
This very special piece comes from almost 2 year old, Nate. This modern piece would be a great addition to anyone's room. Thank you so much Nate for your hard work and your creative style. He and his mom named it Untouchable.
The second piece of the day comes from Mr. Roman who made this spectacular 13x17x1 framed piece that we called Under the Sea. It is vibrant and colorful that would be a perfect addition to any child's room or room that needs a bit of color punch. 🙂 Thank you Roman for your awesome piece.
Okay folks let the bidding begin. Again these pieces will be up for 24 hours starting from now. All the money raised goes straight to the Gene Therapy Program. Thank you all for your support!