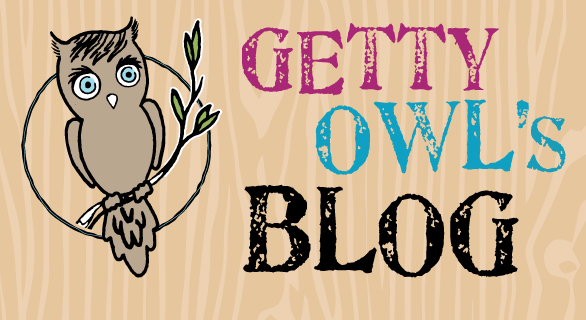 From  Kate:
Running has always been a good outlet for me. Running is not easy, but it does kind of shake up the bad stuff in my head that often takes over after days, weeks, and months inside our house. With RSV and flu season almost over, I am so excited to get out more and dust off my running shoes.
This past month Getty Owl Foundation was absolutely humbled with being chosen as an official charity partner of the SF Marathon. I was speechless when we got the news and it still gives me the warm and fuzzies. The last time I got to run for Getty was in December. My first marathon and Getty carried me the entire way. This was one of the most important days in my life. Getty was waiting for me at the finish line.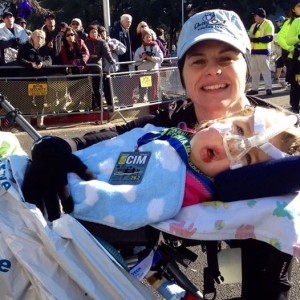 It is simply amazing how her voice and love can carry this almost 38 year old over the finish line. But I did it, it felt wonderful and I am about to do it again in July.
After the marathon, I did what any non-marathon runner would do, I injured myself pretty good. The lack of training in the final month leading up to the marathon (caring for Getty) gave me a false sense of security. I was going to complete the run, but I was not sure how happy my body was going to be. Turns out it was pretty upset. One of my knees went out and I have slowly been working to get better and stronger. It seems as though opportunities come in different shapes and sizes. I was seriously considering stopping for the year. Just to give my body and really my knee a break. Then we got the call from the SF Marathon and I feel like it was a call to action to spread SMA awareness locally and nationally.
Just think of how many people will see the words, Spinal Muscular Atrophy. Just think of how many more people will be in some way shape or form, become educated about the #1 genetic killer of young children. Just think of the possibilities. I do every day and THIS could be a chance in a lifetime to make a mark on this disease. I don't want SMA to hide. I don't want another family to be told that their child has SMA. I also do not want newly diagnosed to feel left vacant inside not having heard of this horrible disease before. I want people to be educated and informed. I hope our foundation's presence will spark conversations, questions, and goggling. 🙂
I also feel like it was a call to action to gather everyone I can to register as a member of TEAM GETTY. I love the feeling of camaraderie and this is a terrific chance to be with friends and meet new ones.
Originally I was going to train for the marathon, but that would be ridiculous now. Also, I would like to secure the feeling in my knees during the duration of my life 🙂 and so I will be doing the beautiful 1st half marathon. The first portion routes across the Golden Gate Bridge. It feels like a bucket lister to me. So I am excited to adorn the TEAM GETTY shirt and run across the bridge for my babe again.
We have several team members already signed up. I want to thank those crazies/pirates in advance. We have a great mix of marathon and half marathon runners.
I would love to add to our team. There is still tons of time to sign up. If you or know someone interested in participating, please send them over so I can give all the details.
Here are some details for those interested:
Date: July 27th, 2014
Where: San Francisco, California
Distance: Half Marathon and Marathon 
Price: Marathon $165
           Half Marathon $120 
Registration: Is through Getty Owl Foundation,  NOT the official SF Marathon website. So please call us at 916-476-3977 or email us at hoot@gettyowl.org 
What to wear?: TEAM GETTY tech shirts are complimentary to all team members and they are RAD!