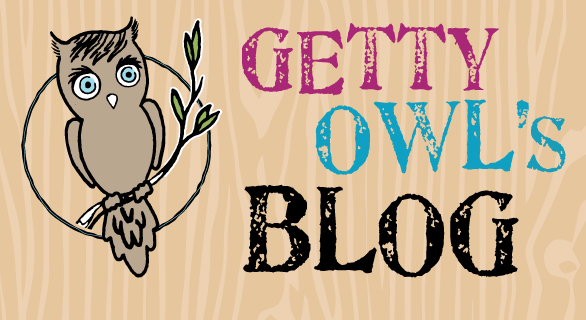 From Kate:
I think about this time last year I was just starting to show my pregnancy. I remember Halloween last year and thinking about how fun it was going to be to have little Getty with us. I remember walking the aisles in Target to see what kind of selection was out there for our new addition. I settled on a ladybug costume that had a big puffy body and a equally puffy hat. It was going to be perfect. So should I buy it now or maybe wait until she is born? I decided to wait, and I am so glad I did because Getty isn't a ladybug, she is an owl.
When Getty was born she instantly looked wise like an owl. Her old soul allowed her not to stress much about anything. Still to this day if Getty does get fussy, which is rare, she has a clear reason for it and we can usually figure it out pretty easily.  Her deep blue eyes are always focused on the nearest face and she always seems to be looking into your soul.
Her cheeks contribute to her profile of an owl. Her soft puffy cheeks are so kissable and become pink when she smiles. Her round belly solidifies the persona of an owl. Now if we can just get her to "hoot, hoot" we should be good. 🙂
We got a chance to meet a terrific couple about a month ago, Robert and Meri Phelps. We had been corresponding with them for months, but only just lately got a chance to meet personally. They welcomed us to their home and we got to meet their sweet little son, Aaron. We felt so comforted to be able to ask lots of questions about SMA and to get a chance to gauge where our journey is possibly going. After lots of conversation, Meri brought out a costume that she thought would be very appropriate for Miss Getty. It was an owl costume that Aaron wore the year before. It was simply perfect. What are odds I thought to myself? I didn't question it and took it home for Getty to wear.
So the big day came yesterday. I have been waiting to share this with Getty for an entire year. I dressed her in the costume and Mark and I took some everlasting pictures of our little girl.
My thinking, at least right now, is that Getty might have to be an owl every year. It just doesn't seem right for her to wear anything else. Well we have a year to think about it at least. I think next Halloween, I will let her choose. 🙂
I hope everyone had a wonderful Halloween. We had a great time handing out candy and checking out all of the Spider-men, ghosts, and pirates.
It was wonderful to spend time as a family after our great trip to Santa Rosa. Getty was very tired but in good spirits. She was a real trooper allowing us to dress her up and to take lots of pictures.
Our loyal steed, Cooper, took part in the Halloween festivities as well. He, too, gets an annual costume. He has been a lobster, a ladybug, and this year, he was a pink fairy. He truly puts up with a lot. But I think he was happy that he wasn't the only one dressed up this year. His sweet sissy was right there with him.
4 Comments
(+add yours?)
---