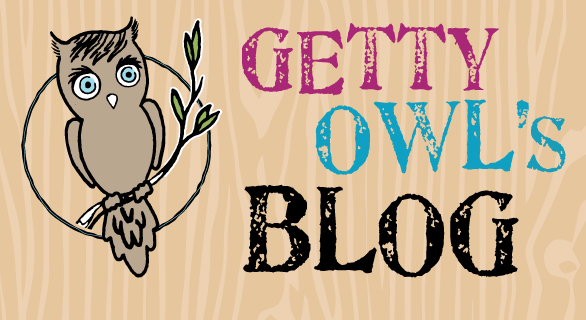 From Kate:
It has been a long time since I have really updated on Getty's health, her activities, her everything. So I wanted to update for the sake of updating.
In a nutshell things are good. We are very blessed to have a vibrant little one that just overwhelms us with love. Her will as such a strong fighter amazes us everyday.
Since Getty and I are "roommates", she has gotten very good at letting me know when she is awake or if she needs repositioning. Since she lacks the ability to roll over on her own, she let's me know when it's time. When she was younger it used to be a little whimper. Now it is a full on yell. She does not mess around. I used to just hear muffled noises, but if I listen very carefully she is saying, "MOM!". If that doesn't get me out of a sleeping stupor, I don't know what does. I am so thankful she can be so verbal with me and I also love the demanding part of it as well. 🙂
Usually she only needs a few repositions throughout the night, but lately has seemed like every other half and hour she would yell at me. I was trying to remedy that as quickly as possible for her sake and for mine. Before she had needs like this was because she had bananas in her diet, to which is now is a huge no, no. So since I had not added anything new, I couldn't figure it out. Until after many wonderful SMA mommies mentioned is she hot? Here I was in the middle of summer putting all kinds of clothes on her. Duh Kate!
So I stripped her down to her skivvies  and guess who slept awesome? Another lesson learned. Who knew she loves being naked. 🙂 Our kids also have a hard time regulating their body temperature, so while our house temperature is set at 67 degrees, she can still be very hot. So since the nakedness, we both have been sleeping a lot better. She only yells me about three times a night, which I appreciate.
Getty's diet continues to do wonders for her. Again, I am not sure where her health would be if we had not made that switch. I know for a fact she would be overweight, breathing way too hard and tiring herself out, immune system would be shot and we might be seeing the doctors more. As it stands and if everyone can knock on wood, we have not been back to the hospital. We see her doctors on a quarterly basis and sometimes bi-annually. Depends on why we are there and who we see.
Getty has a new pulmonologist and we are still doing the "do we trust you" dance. So far she has been pretty open to our knowledgeable and assertive craziness. Other than that, most of our correspondence has been through email with all of her doctors.
Most of the time when we do go for an appointment, it is for blood draws. And so far her metabolic levels have been great. We check for all kinds of things, I wont bore you with all of the labs, but again, Getty is a trooper. As long as the iPad is on, she hangs out and seems to not care that she is getting blood drawn. Last time we were there, the lab tech that was drawing her blood said in astonishment, "doesn't she cry?" And I responded with, "no, if Elmo is on, the world does not exist."
Getty received a new TSLO (chest brace) from Shriner's. She simply grew out of the last one and we wanted to get another kind of brace this time that was both custom but also stronger to keep her upper body in line. It has proven to be great for her. She looks more stable in her stander and that is what we were hoping for. We thought she needed updated AFO's (ankle braces) but it turned out that she just needed to be remolded a bit.
Getty uses a bi-pap machine when she sleeps overnight and for naps and so far, her settings have not needed adjusting.
I think you could consider Getty non-verbal. She makes tons of noises and coos, but the formulation of words is still in the process stage. Her words are often muffled. But we are finding that when we ask her to mimic us, she will, but with her own sound. Her actual words will come out sporadically. She has enunciated "dada", but when we ask her to say, "dada" she clams up. 🙂 There was one day when I was in the office and Getty was with Angie in the living room and she said "mom" a few times, to which I cried my eyes out. We also said, "all done", and she came back with "ah dun". So hearing Getty progress is awesome!
I can't help but attribute this increased verbal communication to her new teachers. The school district have in home teachers that come to play and communicate with Getty. It is awesome! While they are here, I stay out of the picture, but just close enough to suction if need be. But she loves them and I know it is helping with her verbal skills. Mark and I have just grown so accustomed to doing everything for her that I know she knows she doesn't have to say anything to get what she wants. Something that we both need to work on. But with her teachers she needs to respond, and it is so awesome watching her interact with new people.
Now we are having to weigh out the pros and cons of having them come during RSV Season. We are still working on that decision, but in the meantime she is loving it and I don't want to remove these experiences from her. They aren't mommy and I think that is what Getty needs right now. I am always, "up in her business", and I think she is getting to an age where she wants to explore with new people.
Getty's garden is growing leaps and bounds. Her victory garden has gone from little spindly flowers and vegetables to  a mass of beautiful flower, full of color and growth. Her veggies have almost taken over the whole backyard. Pumpkins, tomatoes, cantaloupes, corn, you name it, it is growing out there.
Getty is enjoying watching Sesame Street, like a lot. She loves the songs and Elmo. That voice of his makes her smile and also mesmerized at the same time. Mark and I are a bit "over" Elmo, but it sure makes her happy. She is also enjoying Super Why and Thomas the Train. Those two we actually enjoy watching with her. 🙂
Getty is growing leaps and bounds. She is now fitting 4t clothes. She can still fit 3t, but it is a snug fit. I can't believe how big and long she is getting. We have a giraffe on our hands.
So those are some updates about Getty. We are just so thankful to be updating on her progress. She is such a little lady and in the same breath, such a ferocious fighter. Everyday is an absolute gift.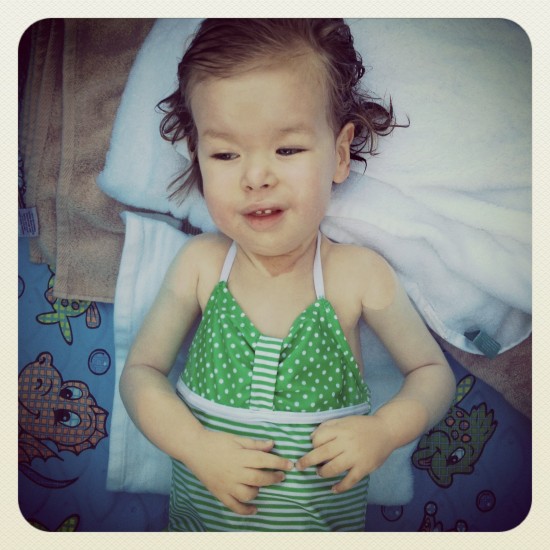 5 Comments
(+add yours?)
---