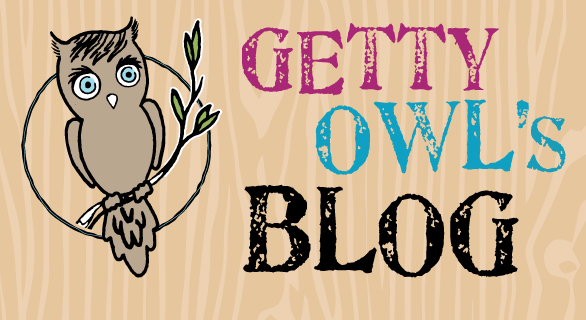 From Kate:
Training for running way too many miles (13.1) has been very difficult. Trying to sneak in running when I can has not been easy, but so gratifying after the workout is over. A sense of accomplishment gives me a chance to seriously feel better as a mother. It has been a good 4 months since I signed up for the Santa Barbara Half Marathon. You know, a funny thing happens when you register online for a run. You get this sense of purpose and excitement and then, when the actual day comes close, boy oh boy I start to freak out. So this race was nothing new.
I wanted to participate in a couple of runs beforehand, so I didn't make a fool of myself.
A month prior (October), I completed the local Urban Cow. What a great run, and it felt good to complete a half. It felt great to know that all my time breaking away from Getty for an hour here and an hour there was paying off athletically. How do I know this? I didn't pass out or need an ambulance, I completed the 13.1 miles faster than I thought, AND after the run was over, I actually felt really good. Not bad. And what other run rewards your efforts with a cow bell?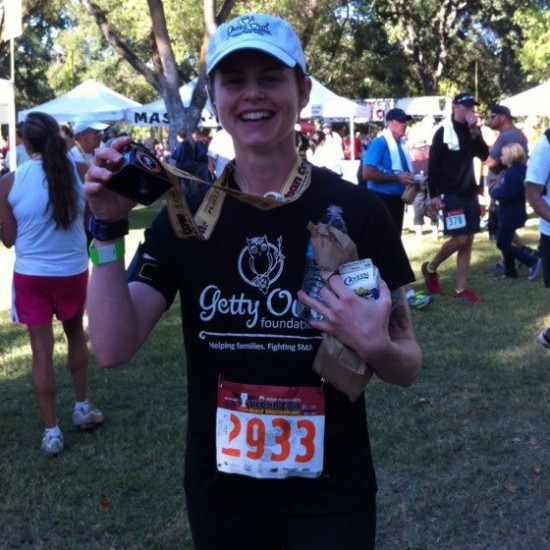 The next run was NOT my idea, but one of my other halves, Takoa. We participated in the 10k Merrell Mud Run (October). Not sure how to explain this run other than to say it is muddy and difficult. The obstacles were very challenging and the overall course was fun, but again challenging. Here we are after we washed off about a ton of mud off of ourselves. It was a blast. Takoa, thank you for the push and the support to become militant. 🙂 We also received some wicked bruises, which was really cool.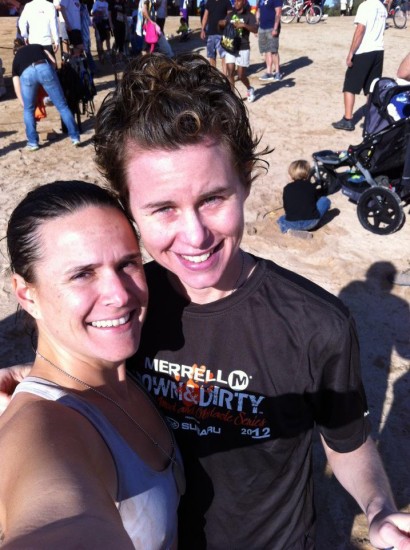 Training and the two races prior led me to being "ready as I'll ever be" to Santa Barbara's Half Marathon (November). This trip was very bittersweet. This trip was going to be the farthest I had ever been from Getty. I have a very easy way of talking myself out of leaving Getty. Some days I get anxiety just leaving to drive down the street to Target, so I opt to just not leave. Mark is an awesome father and can care of Getty just like I, but there just seems to be this innate feeling of anxiety that follows me the moment I doubt myself and a sense of guilt when I leave her side. Once I leave, my heart rate increases and I usually turn around and come home. On the times I do leave to somewhere close by, my anxiety does wear off and I am okay.
So here is the night before I left, so I could get some good Getty & Mama (& Coopie) snuggles in before I left.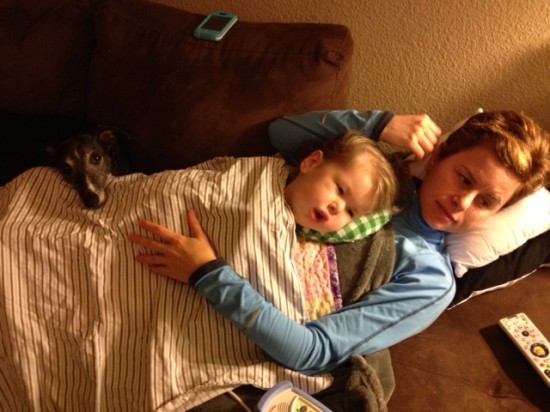 So to register for SBIM, and to travel to Santa Barbara, at times seemed so scary and so incredibly selfish. Throughout October, I was constantly rethinking my decision to go. I think what ultimately kept me focused on going was, that I would be in the company of so many wonderful SMA families. That sense of comfort got me on the Amtrak to Madera to meet up with Jen, another wonderful SMA mom to Miss Hayden, and give me the motivation to road trip with her down to Santa Barbara for two nights.
Looking back on the whole trip, it was the best gift I could have ever given Getty and myself as a mother.
That Friday we got a chance to meet up with a huge group of people supporting the Gwendolyn Strong Foundation (GSF), who was chosen as the marathon's charity, which is an absolute honor to say the least. There were many families I knew through Facebook, but to be able to meet in person was just such a comforting environment.
By Friday night  I was starting to really miss Getty. In the same moment, physically embracing SMA families from all over the country helped me feel her presence. I was very happy we had a chance to gather for a picture. Sweet Gwendolyn and Miss Lucy are the warriors, center stage in the picture. I would have given anything to have Getty there, in that moment. However, Mark and I knew the trip just would not have worked out. Too far, unreliable transportation, it just wasn't going to be. We will get down there as a family again sometime soon.
People often ask me how I "do this." I think what they mean is, how do you handle SMA and still smile and still fight on? Take a look at these warrior mothers, I am in incredible company. All of these ladies have been walking in the steps I am as well. They fight for their beautiful children, they don't give up, and they all have a sense of beautiful grace. So this is how I "do this".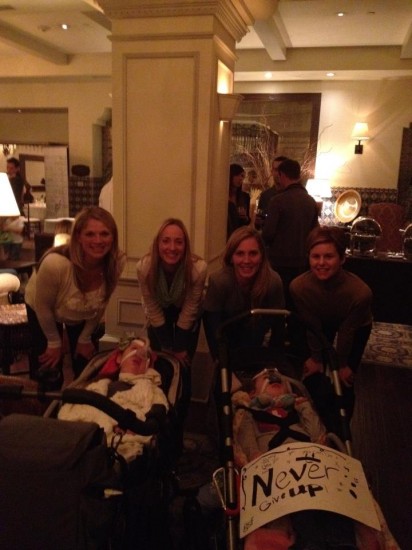 So the day came. Jen and I got ready to go. We were not going to be able to meet up with the over 100 GSF runners until after the run, but we were really looking forward to that reunion.
So basically Santa Barbara is very hilly. I had not prepared for hills, but I think what got me through to the finish line was thinking of Getty and hoping she was proud of me. Hoping that she and her daddy were having fun together and making memories. The route was gorgeous, it was an honor to be there. I was proud of my time. 2:06, not bad for this old lady. 🙂 Here I am coming to the finish line.  If you look carefully, I was able to personalize my running bib. Proudly wearing "Getty Mama". It was a very proud day indeed.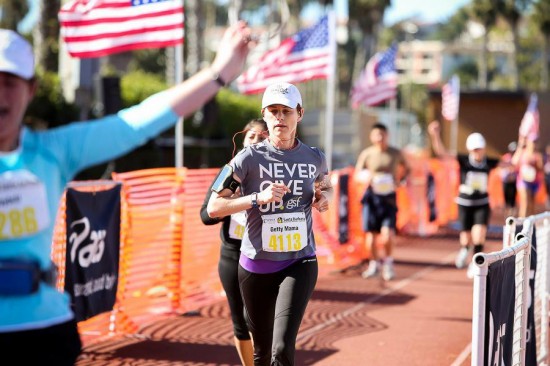 Finally reuniting with some of the group. Jen, Cherisse, and Victoria. It felt great to meet up and talk about the run and how great we felt accomplishing this goal on a group level and also on an individual level. And if you think this race was hard, ask the Strongs: Bill and Victoria ran with Gwendolyn in her stroller. Mind you up those crazy hills. I bow in amazement. 🙂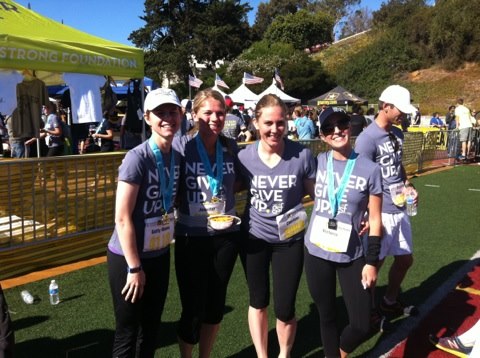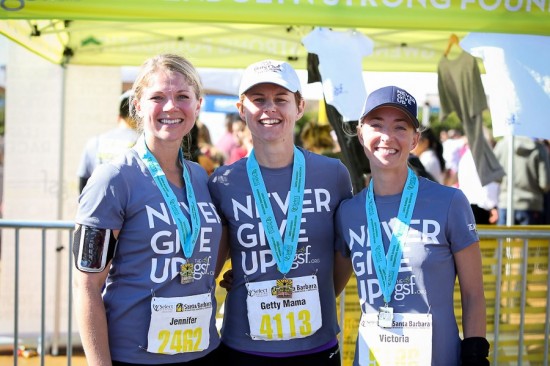 It has been about a month since the run and I am constantly thinking of things that happened that weekend that will forever change me as a person. The bonds that I feel were created that weekend, feel like they will become even stronger between families. After the race was over and all the hugs, tears of joy and rejoicing in a job well done, I took some time to sit alone and think about what this all meant.
Training for this day, traveling so far away from Getty, making a goal and seeing it through, and surrounding myself with positive people who are fighting this disease as well, day in and day out. I came to one conclusion: I don't feel alone anymore. I sat with my head in my hands and I just cried. It was a overwhelming feeling that there were people among me that "got it" and that love my daughter as their own and are doing their best as well to end this disease.
It is very easy to get overwhelmed in the land of SMA. Suctioning, breathing treatments, re-positioning, constantly watching a pulse oximeter and listening for alarms. Fighting with doctors, fighting for basic resources, trying to keep a marriage together when your life feels fragmented all the time, literally feeling raw with emotion and fatigued physically. For that moment, as I sat on the ground, hand face in hands, I was able to just be. I was able to breathe. And if that meant I needed to leave Getty and be away for a weekend and surround myself with genuine human beings that understood what Mark and I go through every minute of every day, then it was all worth it. That was my reward for commitment.
Funny to think that it really had nothing to do with the race itself. That was just the conduit to get me to the place I needed to be for that weekend to gather strength for the drive home and to be a better mother when I walked through our door. I was revived.
8 Comments
(+add yours?)
---