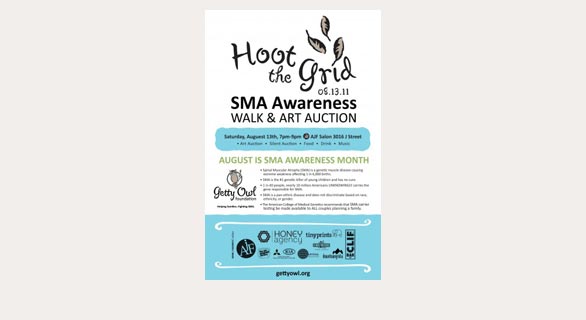 On August 13th we celebrated SMA Awareness Month with two incredible events. Hoot the Grid was an SMA Awareness Walk through the streets of Downtown Sacramento. Over 100 participants wore Getty Owl Foundation t-shirts and went on their own Owl Hunt. Then everyone met up at AJF Salon for a SMA Art Auction. We have a great time and the amount of support that night was breathtaking. Our City Councilmember, Kevin McCarty spoke in support of our citywide SMA Awareness Resolution.
We thank everyone for coming.
Sponsors
We would like to thank all of our sponsors
that help make our event such a big success.
Pictures
We had a great night at Hoot the Grid and the SMA Art Auction at AJF Salon. Thanks to everyone who came to support us.